2021-11-04 21:30:00
2021-11-04 23:00:00
Pi Radio
Outside Turn - Berlin Beatet Besstes präsentiert die Swing-Sendung mit Jörg Heidemann und Andreas Michalke.
---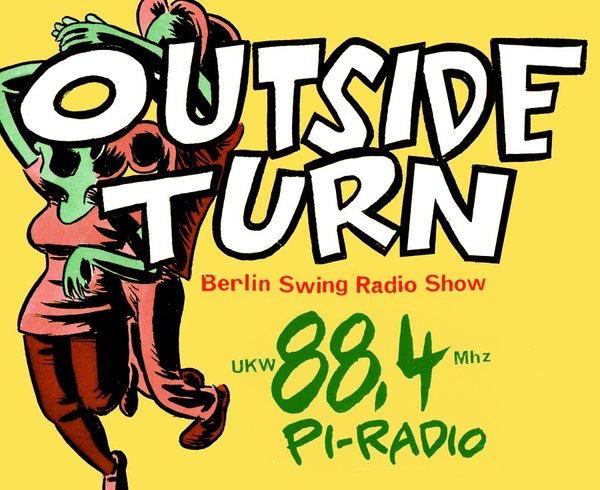 The Four Knights - Walkin' And Whistlin' Blues
The Mills Brothers - It Don't Mean A Thing (slow)
Norfolk jazz quartett - beedle de beedle dee bop bop
Cats & The Fiddle - Blue Skies
The Ravens - Ol' Man River
Ramblers, 1939 - T'aint What You do (aka slip slop shim sham)
The Coasters - Shoppin' For Clothes
The Charioteers - Dinah
Dusty Brooks - Chili Dogs
Three Riffs - Barbecued Ribs
Louis Armstrong & The Mills Brothers - Nagasaki
Delta Rhythm Boys - Just A Sittin' And A-Rockin' (Fast)
Royal Rhythm Boys - In A Shanty In Old Shanty Town
Three Sharps and a Flat - that's the rhythm
The Boswell Sisters - I'm Gonna Sit Right Down (And Write Myself a Letter)
Babs And Her Brothers - a little bit independent
Cab Calloway - Blues In The Night (My Mama Done Tol' Me) feat. The Palmer Brothers
Boyce's Harlem Serenaders - harlem after midnight
Billy Ward & his Dominoes - Can't Do Sixty No More
Big Three Trio - Signifying Monkey
Four Blazes - Snag The Britches
Three Barons - milk shake stand
The Brown Dots - Shout Brother Shout
The Orioles - Happy Go Lucky Local Blues
Royal Rhythm Boys - Beat It Out Bumpin Boy
Three Riffs, 1939 - It's A Killer Mr Miller
Ink Spots - I Don't Want To Set The World on fire
Berlin Swing Radio Show
Outside Turn präsentiert alte und neue jazzbeinflusste Tanzmusik, moderiert von zwei leidenschaftlichen Lindy Hop Tänzern.
---
88,4 MHz - Pi Radio